The UK's most trusted forensic marking & theft deterrent systems for your bicycle -
"DATATAG STOPS THEFT!"
---
What is it?
The system consists of multi-layered security marking technology
---
Why fit it?
True identification of ownership with registration specific to you
Acts as a true deterrent to theft


(thieves will generally target bikes that don't have Datatag fitted)

Aids the Police in recovery and identification of ownership


(with thousands of bikes stolen each year most are never returned to their rightful owners - a Datatag system can overcome this problem)
Unique benefits of having the system installed on your bike
System Type Contents
Ultimate System contents: 
Tamper Evident Warning Label with QR code
Stealth UV Stencils & Etch Fluid
Datadots®
Ultra Destruct Visible ID Labels
Circular Warning Label

---
Cycle Technology
The Datatag System contains the following state of the art technology:
"Stealth" UV Etch
The Datatag System contains 4 UV "stealth" etches to permanently mark your frame and forks. The unique, almost invisible UV etching system forms a major part of the theft deterrent and subsequent identification. Marking your cycle permanently these "stealth" UV etches won't visibly mark your cycle paintwork.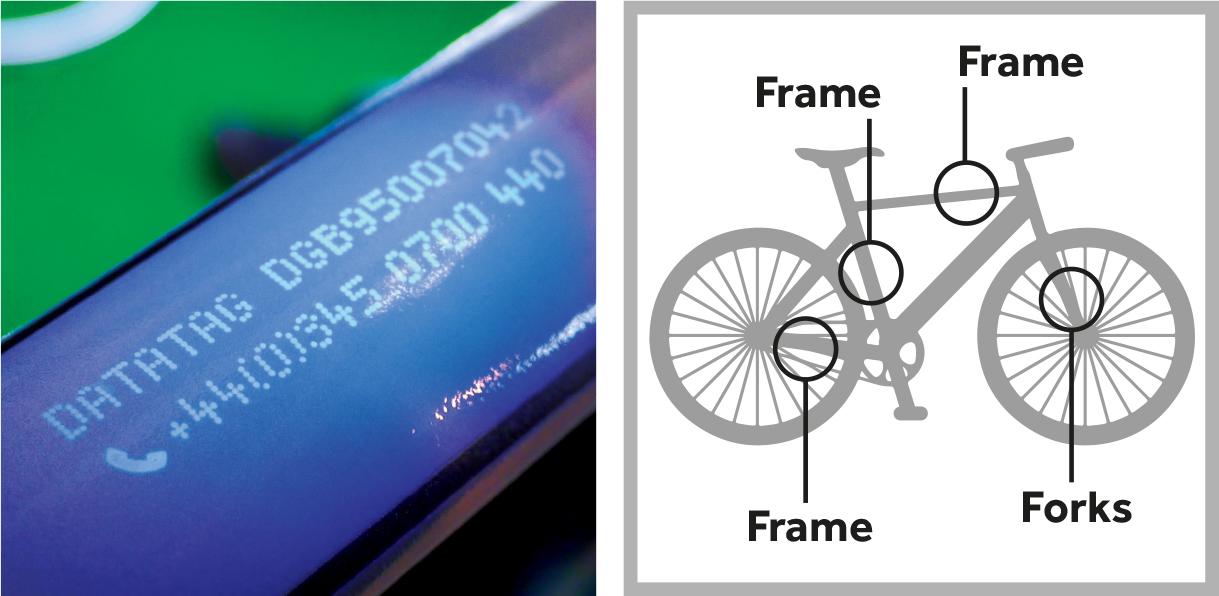 ---
Ultra Destruct Visible ID Labels
Comprises a unique identification number - laser engraved, these labels are impossible to remove in one piece and leave a clear indication should removal be attempted. Use these labels to mark wheel hubs, handle bars and seat posts. They can also be used to mark a frame if the cycle is made of unpainted titanium or stainless steel.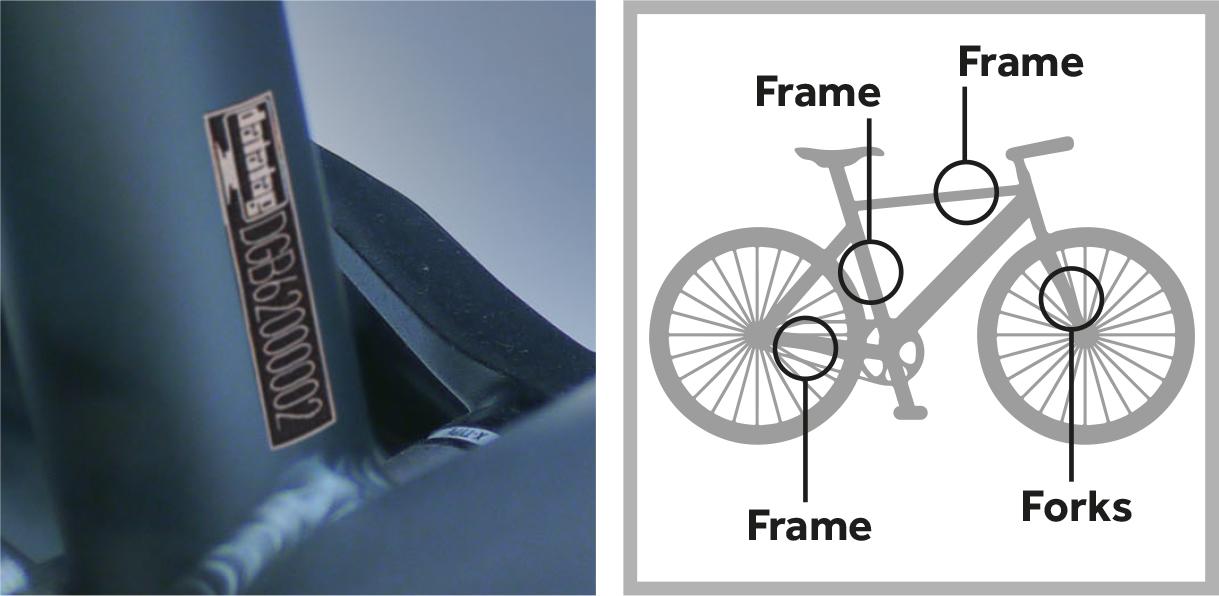 ---
Ultimate TE Label with QR Code
This specially designed Datatag tamper evident label contains a unique cycle identification number and QR code. They warn off any potential thieves and are both attractive and impossible to remove without damage.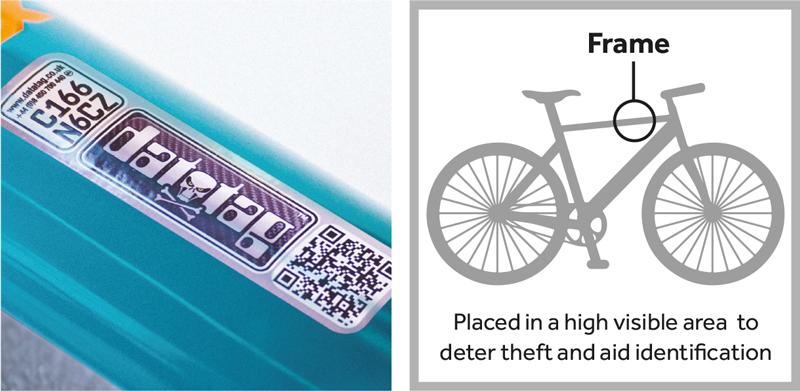 ---
Datadots®
Developed for ease of application these microscopic Datadots® can be applied to any surface, thus making it virtually impossible for the criminals to locate and remove them all. The Datadots®, held in a UV trace silicon glue, can be used to mark all your cycle components and accessories.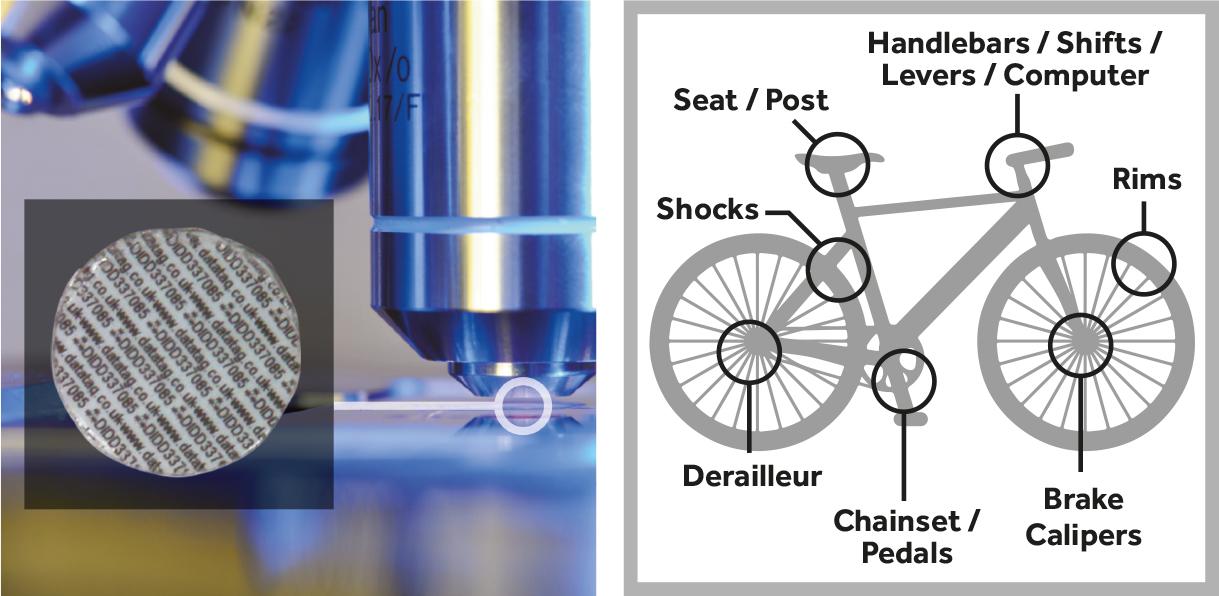 ---
Circular Warning Label
This specially designed label warns potential thieves that your cycle and components are protected by Datatag.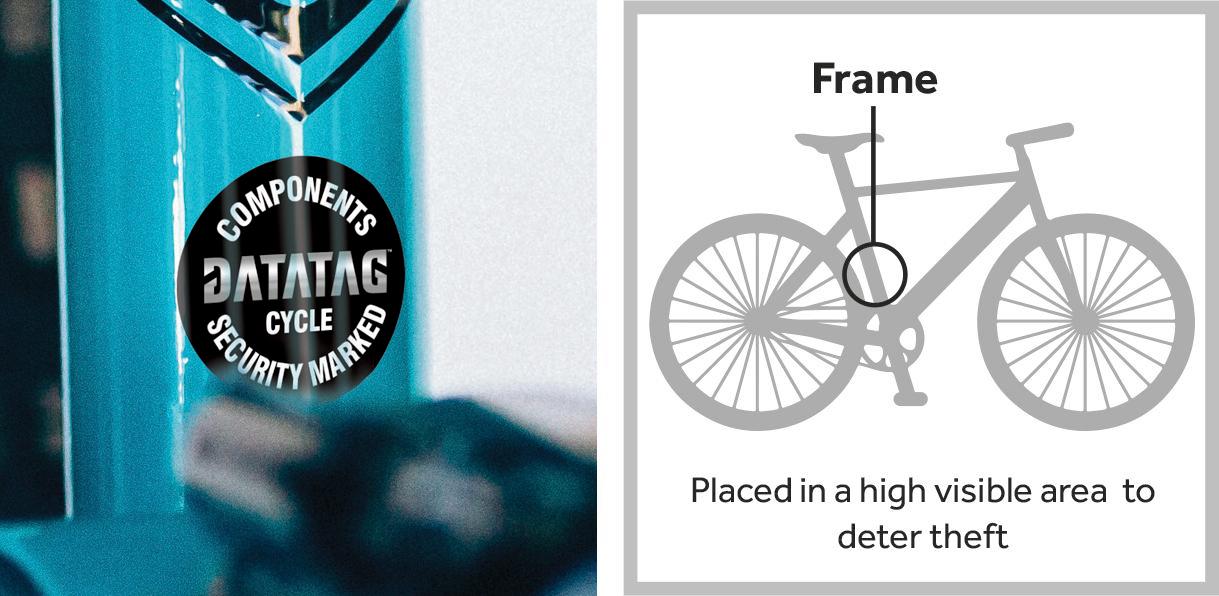 Fitting Instructions
Download Instructions: Click for PDF
Cycle Ultimate Installation
---